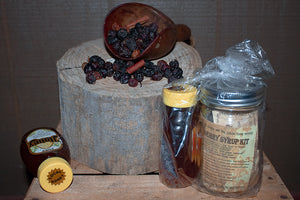 Elderberry medicine syrup is a staple for many natural households because it is one of the best herbs for promoting overall wellness and providing immune support.
It helps fight colds, flu, and coughs with this natural remedy. It contains all the ingredients to make this warm soothing syrup. 
Natural Honey made in local beehives on Gibsons Herbal Gatherings property in Collins, Ohio. 
Your Kit includes premeasured ingredients, Easy directions and a free label for your jar.
Local honey

 

helps with seasonal allergies. ...
Local honey

 

reduces the lifespan of colds. ...
Local honey

 

is a natural antiseptic. ...
Local honey

 

helps tame the stomach flu ...
*The statements on this site have not been evaluated by the Food and Drug Administration. This product is not intended to diagnose, treat, cure, or prevent any disease.
*The product is not recommended for individuals with an auto-immune disease. Please consult a doctor before consuming.