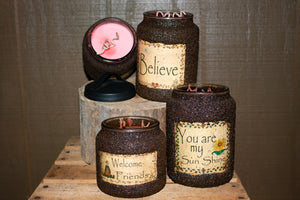 Dive into our aroma filled natural candles!
Over 40 scent choices available!


100% Hand-Poured
Soy Wax Farmed and Harvested in the U.S.A.
High-Quality Fragrance Oils
Up to 120 Hours Burn Down Clean to the Wick
100% All-Natural Hemp Wick
*If you would like a rustic candle with a saying, please select a saying below. Message us if you would like a custom saying. No up charge. These are a made to order product to ensure you your custom made candle. Allow 2 weeks.